A-301 High Voltage Amplifier/ Piezo Driver and Modulator

A-301 piezo Driver/Piezo Amplifier는 고전압 증폭기로서, 고전압에대한 증폭, 고속의 양방향 피에조 드리이브용, 또는 다양한 응용에 고전압 교류전압을 필요로 하는데 사용되어지고 있다.

Piezo Driver / Piezo Amplifier는 출력전압 ±175V (350V ptp). 까지를 갖으며,
전류용량은 모델 A-301 가 60 mA (100 mA peak)
A-301 HS가s 100mA (150mA peak).
A-301 주파수대역은 30 KHz이며, A-301 HS는 200 KHz까지 가능하다.
slew rate of the A-301 is 30V/uSec. compared to 250V/uSec for the A-301HS.
By connecting 2 amplifiers in series, the output voltage may be doubled to 700Vptp .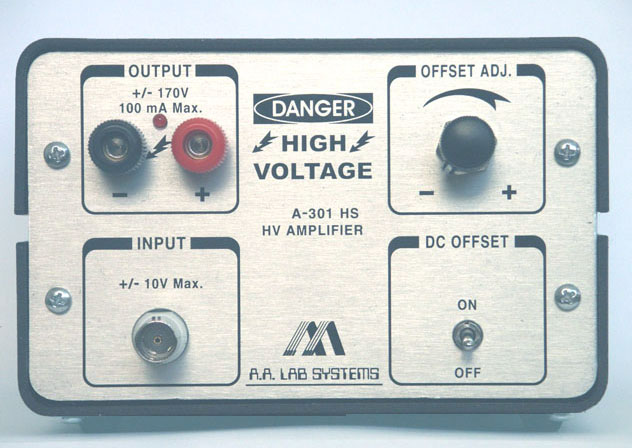 저렴한가격
---
특징:
---
저렴하면서 사용이 용이.


적은 잡음.


낮은 왜곡


High Slew rate-up to 400 Volt/microsecond.


입력 보호회로-High Voltage, On/Off.


출력보호 - Short-circuit, Power loss,Impedance.

Specifications:
A-301 Piezo Amplifier
Amplifier section:

Maximum Input Voltage

± 10 V

Maximum Output Voltage

± 175 V (350Vptp)

Maximum Current

± 60 mA for A-301, +/-100mA for A-301HS

Bandwidth



Into 1 K resistive load
A-301:DC - 30 kHz, A-301HS-DC-200KHz

Output Power

16 Watt maximum

DC Gain

20

Coupling

Input & Output: Direct DC Coupling

DC Offset

Adjustable to ± 8 Volts + On/Off Switch

Input Impedance

10 K

Slew Rate

A-301: 30V/ µSec, A-301HS:250V/µSec

Output Noise

4 mV PTP max. (0.8 mV RMS max.)
(input shorted, 30 KHz. BW)
Variable Gain Option:
0-10X or 0 - 20X or 0-40X available.
Please consult the factory regarding that option.

Dimensions:

H= 90mm W=134mm L=235mm

Line Input Voltage

110/120 V, 60 Hz and 220/230 V , 50 Hz
(Switchable by user)
Line Input Current
0.5 A peak
Applications:
2 개의 amplifier를 사용하여 두배의 출력을 얻을 수 있다.
직렬연결시 (+/- 350V into a floating load = 700V ptp).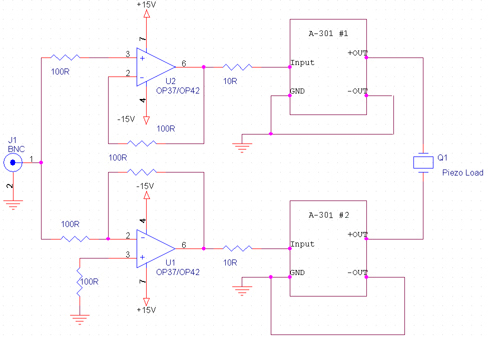 Please note that both amplifiers must be floating (i.e. be careful not to ground them via an oscilloscope etc.)
It is also possible to double or tripple the output voltage by using a special transformer. Using a transformer is possible only at
high frequency (over 10 KHz.) and it requires more components to be added for balancing and proper termination of the load.
Parallel connection is done by adding resistors at the input and at the output. Please consult the factory for parallel connection.
Calulating the estimated current needed to drive your load:
In order to purchase the right amplifier to drive your load, you must calulate the peak current needed.
For Capacitive load:

Ipeak(A) = 2 π F C Vpeak (for a Sine Wave)

Ipeak(A) = 4 F C Vpeak (for a triangular wave)

Ipeak(A) = C dV / dt (for a square wave or sharp rise time)

F=Maximum frequency (Hz.)
π=3.1415927
C=Capacitance in Farads
V

peak

=Maximum Voltage you need to drive your Load.
For Resistive Load:
I = V

peak

/R
where R is the resistance of your load in Ohms.
The current, Voltage and Frequency must be less or equal to the amplifier's specifications.
This amplifier is NOT SUITABLE for driving pure inductive loads
(i.e. speakers, solenoides, electromagnets etc.)
You must connect your load with thick wires to minimize inductance (like speaker wires). Coaxial cable is not recommended for cables over 2m (6.5 Ft.) because the capacitance of the cable (15-50 pF/Ft) will load your amplifier at high frequencies.
Example:
The active impedance of a capacitive load is given by the equation:
Z=1/(2*Pi*F*C) where Pi=3.1415, C in Farads, F in Hz.The user must check that under the peak operation Voltage, at maximum frequency, the current will not exceed 200mA (0.2A).
Example:
Operating Voltage is +/-150V, Maximum Frequency=10KHz. Load is 10nF.
Z=1/(2*3.1415*10,000*10EE-9) =1592 Ohms.
150[V]/1592[Ohm] =94[mA] ===>The amplifier will drive that load at an amplitude of 150V (300V ptp).